I am so excited to post this story from my mom about running on our team. We are so proud of her dedication to the team, to God, and to herself. She is an amazing mom, grandma, and advocate for the ministry!
Sheila Van Son's Journey to Becoming a Runner for HIM!
As a teenager in middle school and high school I used to run track on the long distance team. I loved to run but as the years went by and the pounds found there way on to my hips I decided at 47 it was time to get in shape. I tried the gyms but they were not for me so I reverted to my days of running and on August 1, 2010 I began my journey.
When I first started to run I was doing it for me, but then Alan & Jackie started the Perez Running Team and I decided to join and to train for the Las Vegas Rock and Roll Half Marathon.
At first I could not run from one light pole to the next and I was frustrated with the pain and lack of results. But after I joined the running team I turned my training time into my God time. I rocked out to my favorite song(I Have Decided to Follow Jesus) over and over it was the only song I listened to. I also prayed to our almighty God during this time. He was all mine and I was all His for 1-2 hours a day.
Running began as my mission to lose weight but turned into something so much more it was time I got to spend with God, to talk to Him, to listen to Him, to learn from Him and to run for Him, to help spread His name throughout the Dominican Republic and Haiti.
While running during the 1/2 marathon I was so amazed by the Lord and the strength He gave me to complete the race. There were several times I hit a wall and wanted to stop and at mile 11 I became very sick and started to call for help and to call my husband to come pick me up because I did not think I could go on. I truly thought I was going to die. But God did not let me make that call He said to me "give it a few minutes and you will be ok". So, I prayed for the strength to continue so I could finish. God did not abandon me during my time of need He reached down and touched my body so I could continue running.
I finished my first 1/2 marathon for GOD in 3 hours and 30 minutes, I can't wait for the next race so I can continue to run for GOD!!!
__________________________________________________________
CALICO HALF MARATHON- JANUARY 8, 2011
Running a half marathon was incredible. It was both exhilarating and challenging. We had so many obstacles during our training including my foot injury that really it wasn't until 2 days before the race that I decided to run it. I am so glad I did.
We run for His glory. We run to tell the stories of those who cannot. We run because He first loved us. We run to inspire others to be a part of something bigger than themselves.
I could give a mile by mile playback, but really the only thing that matters is that God was glorified! Each mile we clung to Him to bring us through the completion of the race, and I couldn't help but wonder why I don't live everyday that way.
It was a very spiritual time for me and I learned a lot from the experience.
We are so grateful for the love and support we received for our race. In total, we received close to $1000 for the race and Sheila's race in December raised around $500.
Please continue to pray for us and the ministry we are a part of!
Much peace,
Alan and Jackie
Here are a few race day pics!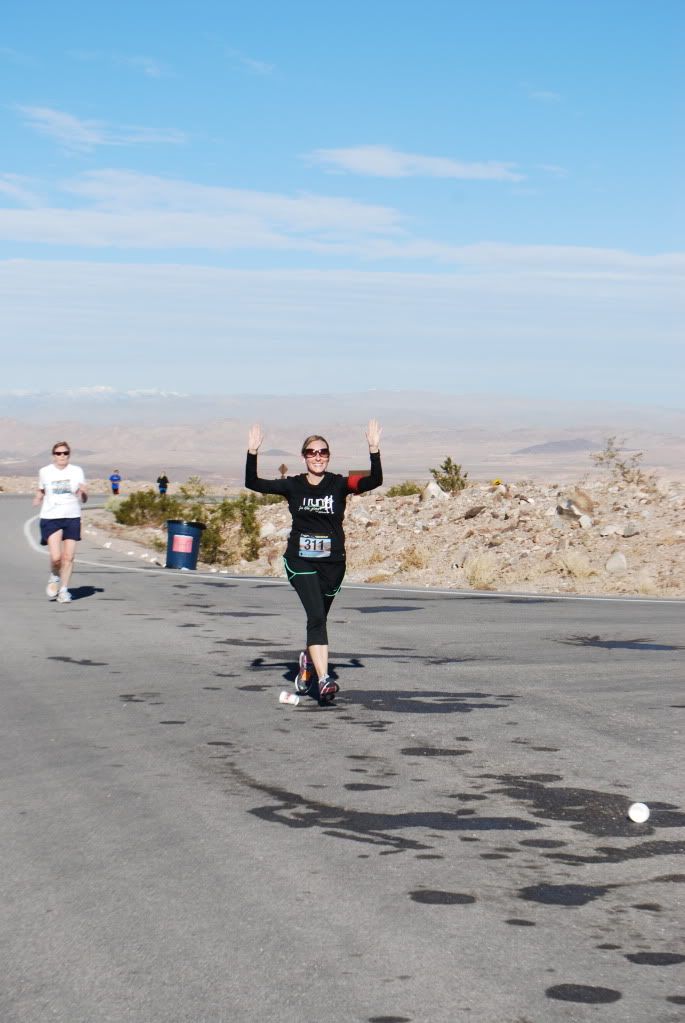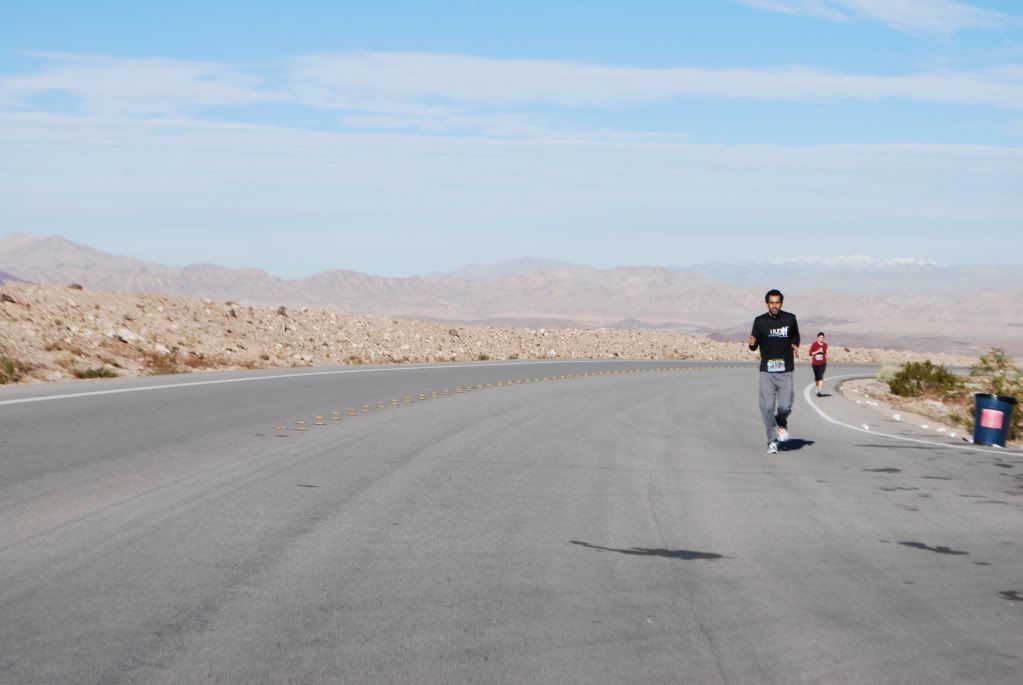 Alan heading up to Mile 8
Alan about to cross the finish line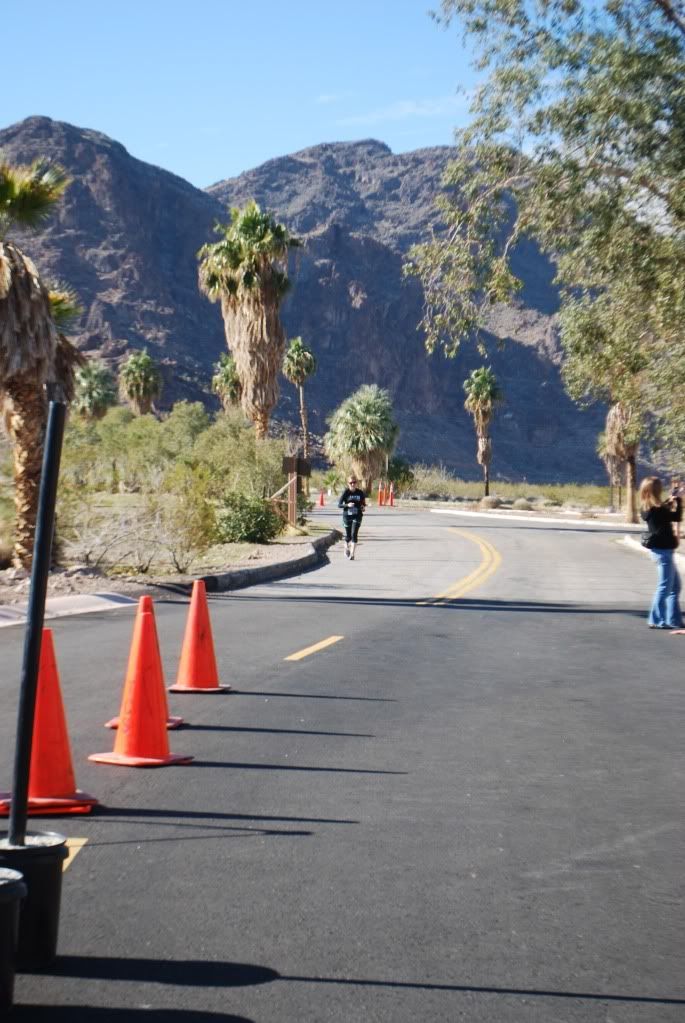 Jackie coming to the finish line
After the race, barely standing!!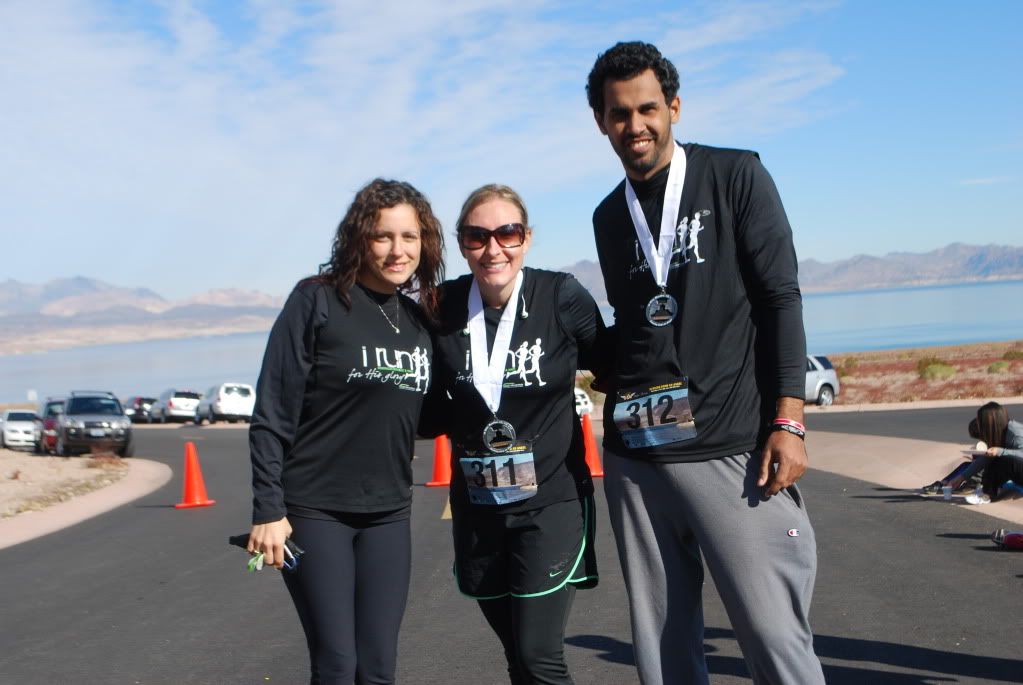 With our good friend Valarie, fellow team-mate and photographer! (Thanks Val!)
__________________________________________________________
Weeks 6-11: (Oct. 17- Nov. 27)
We hit a few rough weeks during this time. We moved to a new house and I was "warned" not to run through my new neighborhood... doesn't make one feel to safe now does it? I ran only once in that week. The following week we were broken into. Read that story
here
. I didn't run that week. We decided to move back to our old house. I ran once that week. And that would bring us to the current week...
(last Friday- 7 miles)
Saturday- day off
Sunday- 4 miles
Monday- day off
Tuesday- 9 miles
Upcoming Wednesday- 2 miles- will run tomorrow
Upcoming Thursday- Thanksgiving- 5 miles
Upcoming Friday- 60 minutes cross-training
Upcoming Saturday- 10 miles
Just 12 more days until race day!!
__________________________________________________________
Week 5: (Oct. 10-16)
I have just completed my first 5 weeks of training! I can't believe how fast it has gone by and how wonderful it has felt! Don't get me wrong- there have been hard days, but knowing why I am running has helped me push through!
Here's what I did this past week-
Sunday: Strength and Stretch- yeah. still trying to do something with this!
Monday: 4 miles
Tuesday: 2 miles
Wednesday: I switched my Thursday rest day for Wednesday!
Thursday: 4 miles
Friday: 40 minutes cross training- yeah, didn't do this
Saturday: 6.3 miles- that's right! My farthest run ever!!
Total miles ran this week: 16.3 miles
__________________________________________________________
Week 4: (Oct. 3-9)
Week 4 was beautiful! My mom and Hank flew into the DR for some vacation time with us and to also help watch the girls during our Annual Fall Staff Retreat. My mom, Hank, Alan, me and the girls left for the beach on Saturday and spent a few days relaxing before the rest of the staff joined us for the retreat.
Here's a beautiful picture of the shore line that I trained on for the week!
Monday: 3.5 miles
Tuesday: 2 miles- my ipod died after just 1/2 mile, thankful there was such beautiful creation to admire!
Um, yeah- so that's all I did that week at the beach! The retreat began Tuesday afternoon and lasted until Friday. It was a wonderful time with the staff- running def. took a backseat this week.
Saturday: We returned home to Santiago and I promptly laced up my shoes and hit the pavement! My first 5 mile run in the DR!

Total miles ran this week: 10.5 miles (was supposed to be 14 miles)
__________________________________________________________
Week 3: (Sept. 26- Oct. 2)
I am a little late is posting the updates for the last couple of weeks, but here we go!!
Sunday: Strength and Stretching- still need to work more on this!
Wednesday: 3 mile run + strength
Friday: 30 min. cross training = pushing the girls in the double stroller for 30 min!
Total miles ran this week: 12 miles
__________________________________________________________
Week 2: (Sept. 19-25)
Sunday: Strength and Stretch
Monday: 3 miles
Tuesday: 2 miles
Wed.: 3 miles
Thursday: rest
Friday: 30 minutes cross train
Saturday: 4 miles
Total miles ran this week: 12 miles
__________________________________________________________
Week 1: (Sept. 12-18)
Today marks the end of week one of our
12 week training program
leading up to the
Rock and Roll Vegas Mini Marathon.
Here's what we did this week:
Sunday: Strengthen and Stretch- I need to get better at this. I don't do either very well!
Monday: 3 mile run
Tuesday: 2 mile run
Wednesday: 3 mile run + strength training
Thursday: Rest
Friday: 30 minutes cross-training (I push my gigantic double stroller and both babies around the park across from our house, and it is a workout!!)
Saturday: 4 mile run
Total miles ran this week: 12 miles
It went really well this week! Both Alan and I are training and I am so thankful for a husband who loves the Lord, and helps us both find time to train. I usually go in the mornings after we feed the babies and he goes in the evenings after we put them to bed. This morning he actually sterilized all the bottles and did the dishes so I could get out of the house while it was still cool! I am very blessed!
Want to join our team? Click
here!